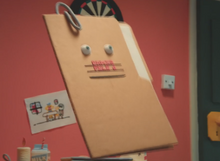 The File is a minor character in Don't Hug Me I'm Scared 6. He sings "I am a file and you put documents in me!"
Trivia
His appearance and line are foreshadowed when the Red Guy talked earlier in the episode about a file.
On the cover of the file, it is labeled "DHMIS FILE 6", referencing the title of the episode. 
The character has the same paper clip as the Magnet, who sang before the File appeared. 
The file's voice is the Red Guy's voice but speed up.