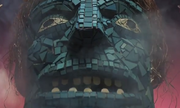 Malcolm is a character in
Don't Hug Me I'm Scared 3
, when
Shrignold
and his friends took
Yellow Guy
to where they worshipped him. He orders his followers to feed him gravel, or he becomes angry.
Malcolm is the 'King Of Love' in the 'Love-Cult', the collective name for their clan
▪ "FEED MEE!"
On the credits of Don't Hug Me I'm Scared 3 it shows Malcolm's head burning behind the text. You can also see a gas can, with the logo from the monster from the HELP videos.
Malcolm makes a cameo in DHMIS 4 as a little desk prop, but it isn't on the table where the puppets are sitting at.
Malcolm also appears in DHMIS 6 (as a desk prop and animated).
He faintly says, "Mmmmm.... Gravel..." in DHMIS 3.