This page contains some minor characters from Don't Hug Me i'm Scared 1. Some of them don't have their own article because they have a short appearence through this episode.
Red triangle thing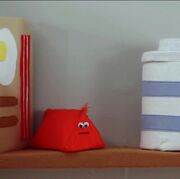 Orange
In the Sketchbook's imagination, the orange has a silly face and legs.
Blueberry
Ratty
Ratty never appears in the series, but there's a hole on the wall in every episode, so maybe Ratty lives there.